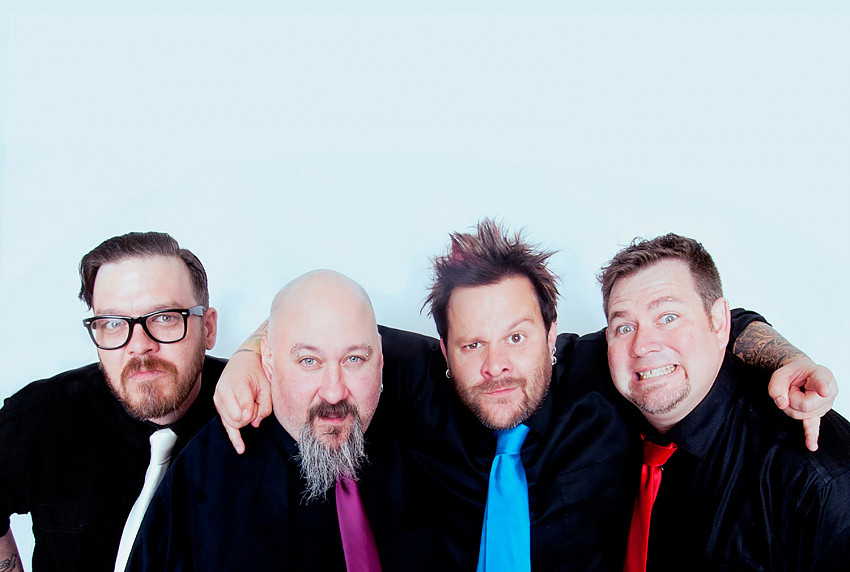 Bowling For Soup
Bowling For Soup
There's a place called The Sweetwater Tavern just off the main square in Denton, Texas. You've perhaps not been there, but if you're familiar
with Bowling For Soup, the larger than life Texan band who have delivered infectious power pop music to the world for over two decades, you'll
most certainly know the name. Why? Because rather than trying to break away from their hometown, BFS simply took their hometown with them
and into the hearts of millions of people all over the world. It's this lovable honesty that has served them well since forming back in 1994.
Everyone can relate to what BFS sing about, everyone can relate to the characters in the band – singer Jaret Reddick, guitarist Chris Burney,
bassist Erik Chandler and drummer Gary Wiseman - we want to be their friends, heck, as far as they're concerned, we ARE their friends!
Finding their niche back in the 1990's would be tough when the musical climate was in serious shift. 'We were just the stereotypical, small town
guys with nothing else to do - starting a band to keep ourselves out of trouble.' recalls Reddick looking back. There was certainly no current
trend to follow, every other band seemed to be genre jumping to try and catch 'the next big thing' without even knowing what 'the next big
thing' was, leaving the members of Bowling For Soup with no option to just go out and have fun. Brought up on a heady diet of 80s John Hughes
Movies, LA Hair Metal, Steve Martin comedy routines (which spawned the band's name) and hook laden punk rock, BFS hit the ground running
on the simple blueprint - have a good time and pretty soon, everyone else will join in.
This is no flash in the pan, gimmick band. Certified hit singles such as the Grammy Nominated 'Girl All The Bad Guys Want' and the US smash
hit '1985' over consecutive releases, back to back, more than proved this. Even since leaving their long time relationship with Jive Records
almost a decade ago, has seen the band thrive and go on to form their own cottage industry, recording and releasing albums on their own
terms. 'We're in control of everything now. If we decide we wanna do something, we just do it - we don't need to ask anyone's permission. It
also makes you feel super proud when you do something yourself and it's a success', reveals Reddick. BFS have been, without a doubt, one of
the pioneers of the fan funding music platform by taking fan interaction to the next level with each project proving more and more rewarding
and successful for both the band and their fan base.
Today that fan base consists of the most varied cross section of music fans you're likely to find at any rock concert. What began as spiky haired,
skateboarding teenagers at a Vans Warped Tour Show has somewhat changed. Those fans are still there but don't be surprised to now see the
occasional middle aged rocker who picks up on the numerous Mötley Crüe references dotted within the songs, and even parents with their
children can be seen singing along, no doubt thanks to the band serving up the theme tune to the hit Disney cartoon 'Phineas & Ferb' and
Reddick being the unmistakable voice of the iconic Chuck E. Cheese character! Everybody LOVES Bowling For Soup – it's plain to see!
2016 sees the release of the brand new, fan funded album, 'DRUNK DYNASTY', follow up to 2014's Greatest Hits collection 'Songs People Actually
Liked - The First 10 Years' and the first album of new material since 2013's perhaps darker, reflective album 'LUNCH.DRUNK.LOVE'. The new
eleven track album is bursting at the seams with undeniable feel good, smile inducing pop rock goodness such as 'Hey Diane' and 'Stop Doing
That' right through to epic, hands in the air anthems like the epic 'Catalyst'.
With no plans to slow up just yet - BFS are fresh from a huge UK Arena Tour alongside Steel Panther and Buckcherry and will be following
'DRUNK DYNASTY' with an acoustic live DVD / CD, 'Acoustic In A Freakin English Church', filmed at Union Chapel in London on their
October 2013 tour. BOWLING FOR SOUP continue to re-write their own rule book. There are no boundaries for where they go next because they
will always do it with honesty and a smile. That way, whatever the outcome, they can never fail!