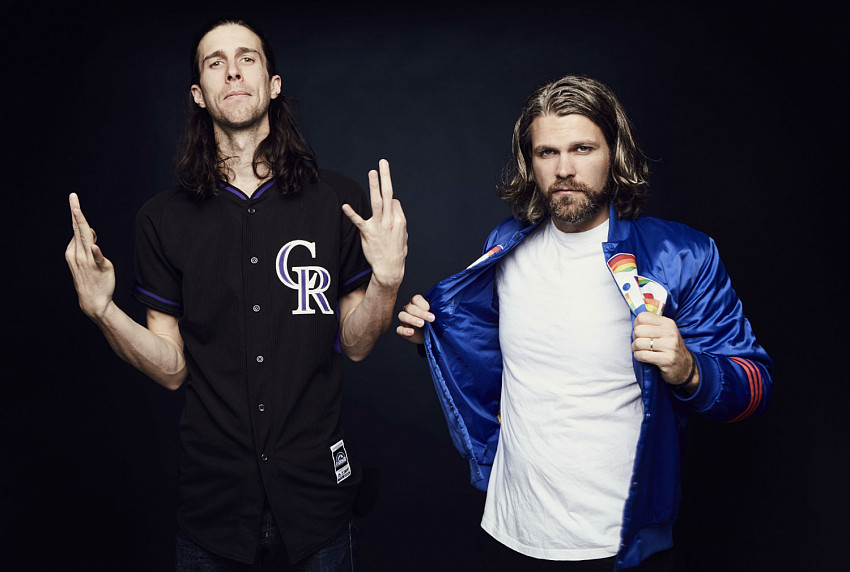 3OH!3
3OH!3
3OH!3's new album, NIGHT SPORTS, takes them back to their roots: Two guys in a basement in Boulder, CO making music for the fun and possibility of it. Of course now, almost a decade since their boisterous 2007 self-titled debut, the basement is slightly nicer and the guys are more practiced, but the fun remains the same. After the success of 2013's OMENS, 3OH!3's fourth full-length, Sean Foreman and Nathaniel Motte took a pause from the band, exploring other arenas of music by producing and songwriting for other artists, including Maroon 5, Kaskade, Ariana Grande, Beck, Fitz and the Tantrums and Lil Jon.
"Working with other musicians is a wonderful counterbalance to our own artistry," Nathaniel says. "It was nice to step away and see the variety of music that's out there. Experiencing a broader range helps inspire our own music. And once we felt ready we just wanted to get back to where we started. Fun is in the center of what we do. We've always wanted to make shit that sounds crazy, has energy and is fun for us to make and fun for people to listen to. That always carries over."
For Sean and Nathaniel the magic of 3OH!3 happens together in one room, the explosion of what comes from the two of them passing around ideas. Starting in 2014, the duo penned over 50 songs, primarily in Nathaniel's home studio in Boulder dubbed STUDIO GUY LUXE. Both felt rejuvenated after working with so many other artists and aimed to create new songs that were both unique and specific to 3OH!3's aesthetic.
"There's nothing quite like getting into the headspace of going into another record and not being under any pressure," Sean says. "It feels so free. You can do whatever you want. We went into our natural element of having fun and embracing our mission statement, which is to do something that's tongue in cheek and energetic. The spirit of our music is the spontaneity of us being together and having fun. It's about collectiveness and energy so all these songs we made in the same room, letting loose and letting go of the filters that keep songs sterile."
"BASMF" (an abbreviation for something that would be impolite to type in a bio) was one of the first songs they wrote and its bouncing attitude sent them on the eventual course of NIGHT SPORTS. "It reared an attitude and pushed us in a direction," Sean notes. "My Dick," the album's hooky, comedic first single, arose out of a writing camp the guys set up with some friends in the woods of California. The track was playful and immediate, which clicked immediately with musicians. "We made this song in a cabin with our friends having the time of our lives," Sean says. "Having that fun and energy in the studio is what this band is all about."
The album, produced, engineered and mixed entirely by Nathaniel, can be overtly humorous at times, but is in no way one-dimensional, also embracing cutting edge production and thoughtful songwriting. Like the band's older material, NIGHT SPORTS embraces a raw edge and a hip-hop sensibility. "Mad At You" layers rap lines over a propulsive beat and a soaring pop chorus, aptly combining the musician's stylistic interests, while "Hear Me Now" goes straight in with eclectic modern hip-hop production and spit-fire lyrics.
"Overall it's more focused on the raw energy we came from than our last few records," Nathaniel says. "We started hanging out in Boulder's underground rap scene and wanted to recall that here. We've learned so much making all our records, but I think it was important to come back and really do what we do best. What we do well is convey that sense of immediacy, energy and inclusiveness and hopefully that's evident on this record."
NIGHT SPORTS is the culmination of 3OH!3's efforts and success over the past several years. The group's 2008 breakout album WANT has been certified gold and sold over 6.5 million in digital sales. Its No. 1 hit single "Don't Trust Me" is 3x certified platinum and its follow-up single "Starstrukk (Feat. Katy Perry)" is certified platinum. 2010's Streets of Gold debuted at No. 1 on Billboard's Dance/Electronic Albums chart while simultaneously making a top 10 entry in the Billboard Top 200 its week of release. The album's hit, "My First Kiss (Feat. Ke$ha)," is certified platinum and reached the Top 10. Overall, 3OH!3 has sold an impressive 15 million tracks worldwide. The band has also embarked on multiple headlining tours and headlined the Vans Warped Tour, which they will return to in the summer of 2016.
For the musicians, NIGHT SPORTS represents the convergence of all they've learned along the way, both in 3OH!3 and with other artists. It showcases the true spirit of 3OH!3, which is genuine, and inclusive. The album is rooted in the past, but reveals a natural evolution forward.
"We're very confident in the sound we've started," Sean says. "And now we're hitting our stride with the production and songwriting. We want everyone around the world to have fun and party and have that moment where you can listen to our music or come to a show and let go. It's an overt expression of joy and fun and lets you release all those things that bog you down."
"Our goal is that you can put the record on at a party and just keep it on," Nathaniel adds. "If people dig it and have a good time then we're happy."