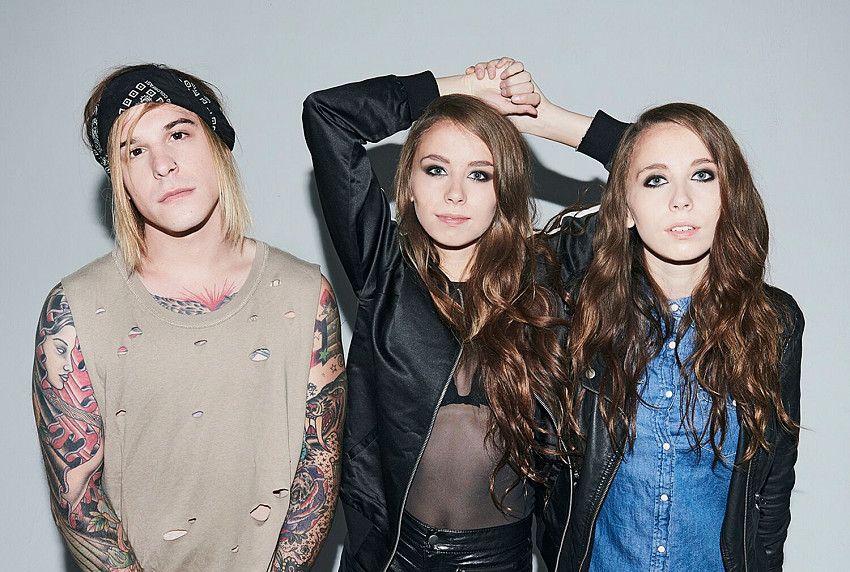 Courage My Love
Courage My Love
We are all built for change and evolution, and Kitchener's Courage My Love is no exception.
These Warped Tour warriors have advanced their sound from feverish guitar-bass-drum pugilism to something more complex, dynamic and striking for their debut InVogue/Warner Music Canada album, Synesthesia. Fans will notice within the very first few bars of "Stereo," Courage My Love's incredibly contagious first single, a sumptuous synth hook indicating that twin sisters Mercedes (singer, guitarist) and Phoenix (drums, synth, programming, vocals) Arn-Horn and bass player Brandon Lockwood are pursuing more sophisticated sonics.
"We didn't want to be stuck underneath a female-fronted rock band ceiling," Mercedes admits. "We wanted to reach beyond that constraint and see where it would take us."
Phoenix, who taught herself synth programming during the Synesthesia sessions, says that the Juno-nominated trio's songwriting attitude has changed considerably since 2015's Becoming (an album compiled of previous EPs.)
"We lost the ego of wanting to show off," she explains, hearkening back to the days when Courage My Love was first discovered following a 2010 Battle of the Bands in Stratford, Ontario.
"Now, when we write, it's more about the song and what it needs. We try to make songs instead of flashy parts."
Co-produced by David Bendeth (Paramore, Of Mice and Men, Papa Roach) at New Jersey's House Of Loud and Chris Perry, who also co-manages the band with fellow songwriter and producer Nicole Hughes, - the 11 songs on Synesthesia that were also recorded at Toronto's Noble Street and Pocket Studios don't abandon the six-string frenzy or magnetic charm of the earlier two-million YouTube viewed "Bridges"or "Kerosene," whose video director Emma Higgins was recruited to lens "Stereo."
Bristling guitar riffs and pounding rhythms still form the backbone of such Synesthesia songs as "Tough Love," "Need Someone" and "Walls," but the arrangements are more tenaciously sculptured, with strident melodies and some impressive singing and vocal interplay by Miss Mercedes and Miss Phoenix.
"We wrote songs that I hope will stand the test of time." Mercedes says.
Phoenix says the collaborations with writers like Raine Maida, Ryan Stewart and Morgan Dorr led to a refined Courage My Love songwriting standard.
"Because we didn't focus on the instruments as much as the melodies and lyrics, these songs have something special that we've never had before," she explains.
Bassist Brandon Lockwood puts his stamp on arrangements.
"Cedes and I write the majority of the songs," Phoenix suggests. "But it's really important to have someone else help give it a sound and arrange it. That's where Brandon comes in: when we jam it together, he's really creative with parts."
Defined as a blending of the senses where the stimulation of one sense leads to an automatic, involuntary reaction in another, like hearing in colour, Synesthesia was titled to reflect Courage My Love's newfound stylistic maturity.
The album is ultimately about emotional empowerment.
"We wanted it to be a message where if someone is going through something, where they're doubting themselves or are just in a bad situation, that they hear something in the album that makes them realize that they can make it out the other side," says Phoenix.
"Our goal is to turn something negative into a positive: A lot of people our age and younger listen to Courage My Love, and it's a really tough time in trying to find yourself and figure out who you are. We often look through the eyes of someone else and judge ourselves based on what others think. We wanted to get the message across with this album that you should determine your own self-worth," adds Mercedes.
In the meantime, Synesthesia is Courage My Love's calling card to be taken more seriously.
"I want people to look at us and go, those girls are serious songwriters and musicians," says Phoenix. "We're 22 and finding out who we are as adults and as people. We want to have our own voice." -- Nick Krewen
Courage My Love

1:45 PM-3:00 PM

Courage My Love

9:15 PM-10:30 PM

Courage My Love

8:30 PM-9:45 PM